2019 ITU Multisport World Championships – Race Report
By Cindy Abrami, NASM-Corrective Exercise Specialist, UESCA Running and Multisport Coach and holds a BS in Nutrition
The Lead Up to Race Week
The Race: The ITU World Championships for Sprint Duathlon. Race distance: 5K run/20K draft-legal bike/2.5K run. This distance of racing takes around 1:10 to complete but varies based on the course and conditions, including the specifics of the transitions. To complete this race as fast as possible, it requires the ability to stay in pain and hover at your absolute limit the entire time. The World Championships were held April 27, 2019 in Pontevedra, Spain.
In the days and weeks leading up to the 2019 ITU Multisport World Championships I found myself catching my breath every time I thought about it. I dislike the feeling of nervousness and it doesn't serve me well so many weeks out from an event. When not in an active training session, I tried to keep it out of my mind. But in a training session it's all I allowed myself to think about. When I'm training and thinking about it, it doesn't manifest as nervousness. It manifests as focus and motivation. In the final 8 weeks of training, the final preparatory training cycle, it becomes just as much about the mind as it is about the body. I play out a different potential scenario every day. One day it might be that I imagine I'm forced to run down a competitor who came off the bike with a big lead. With only 2.5K in which to run them down, it's game on from the first step. Other days I might imagine that I'm desperately holding the wheel of a stronger cyclist uphill and I know the pain will be all I can handle but will only last a short time. On a training run I sometimes pick out a person up ahead who seems to be running strong and I pretend they are the female I must catch and pass if I am to be the victor. I've finished tempo runs in an all-out sprint to catch some poor random guy who had no idea he was being stalked. And then, oh, my poor husband. On Tuesdays or Thursdays we completed a Progression Run in which we drop the pace every mile for 6 miles. The run always begins innocently enough, in a warm up pace, but the final miles … that's when John transformed into "my competition." He became the female I needed to beat. If I could successfully drop him, my confidence would soar. Those runs were tough every single time. And then I would go into an indoor cycling interval session to complete the day's workout.
Training hard, precision hard, while trying not to get injured or mentally burned out is a near impossible task at my age. If I get that part wrong, I either don't make it to race day or I get there over-cooked, stale, broken and past my peak. So there is a very specific schedule I put together with a gradual build and if I time it right, my final hard week (which falls two weeks before the race) is literally all I can handle. I sit on the edge of the breaking point. And then it's done. If I hit that final workout, really hit it, I know I'm ready. At that point the only thing I can do to mess it up is keep pushing things too hard. But I don't keep pushing too hard. Instead I make a definitive, gradual retreat and begin peeling off layers of training.
One reason why I don't like and don't use Strava (sorry Strava) is that my training is for my eyes only. It's personal and it's private and always has been. I find no reason why others should know what I'm doing and what my training data is. I don't want any temptation to "compete" in training. So other than the competitors that exist in my mind, no one else is involved. Because that's a conviction of mine, I won't go into much detail about my actual training other than to describe what I believe to be the crucial components. And here they are:
I started out with a solid and well-formed endurance base before I began a focused build, taper and peak. Seasons of intensity come and go, but the base building and maintenance is always there to some extent. It is in fact my way of life.
Every run I complete in training has a very specific purpose. I don't have time, energy or the body for junk miles and pointless load, so it's either an interval, a long quality run (tempo, steady-state or progressive run), a long endurance run or easy recovery.
My track work was comprised of a very specific 8 week build for 5K peak performance and there were absolute, must-hit time goals for every workout.
I included strength training and core work and was very careful to use corrective exercise to ensure I was performing with proper biomechanics and muscle balance. Flexibility work is very specific and only performed on muscles that are tight (shortened) and overactive. The other side of the balance is that I did a lot of work activating underactive muscles (primarily glute max and medius). Core work was focused on the intrinsic core stabilizers, not the external muscles. I avoided any type of core work that drew in my hip flexors because my hip flexors are overactive. All of this has been a huge contributing factor to getting to race day not only injury free, but optimal.
I included plyometric work, dynamic stretching and form drills.
I worked specifically on cycling pedal technique and worked very hard to learn to apply power throughout the full pedal cycle.
All cycling workouts were quality, with specific energy systems targeted.
I maintained a clean diet, focused on refueling with real food. I don't use any type of processed recovery products. Real food for everything. I eat a lot. I eat when I'm hungry. Every once in a while I have some key lime pie.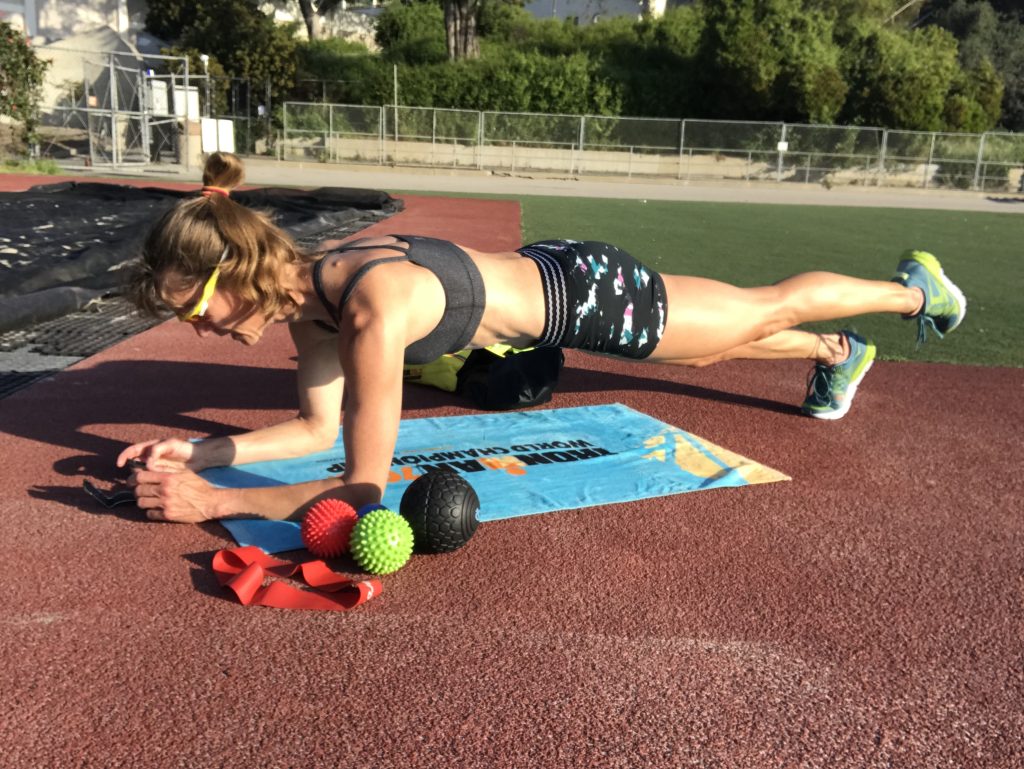 It felt comforting to occasionally express to friends that I was really nervous. I felt a lot of pressure as I was coming into this race as the defending world champion. As much as I tried to tell myself "it's ok if you don't win", I knew deep down I would be overcome with disappointment if I fell short. I couldn't quite manage to release myself from my hopeful expectations. This is completely different than last year's World Championship where I went in with a ton of hope and dreaming, but no expectations. Don't get me wrong. I wasn't assuming I would win again. I knew the likelihood of defending that title was low to moderate. There's always a chance but just as much a chance that it won't happen. Every duathlon is different and can play out a hundred different ways, especially a draft-legal race. So I sat in this difficult situation, felt the pressure and just kept settling myself down by reminding myself I only had control over my preparation so let's focus there and let the rest go.
The Trip
Rain, hail and thunder storms were forecasted in Pontevedra for Monday through Friday morning of Race Week. Race day was Saturday, April 27th. We left from LAX Monday, April 22 evening time and had a direct flight to Madrid, Spain (10 hours). We had a 4 hour layover (we had to claim and recheck our luggage during this time), and then an hour flight into Santiago. We arrived on-time at 9:00 PM Tuesday and our first small hiccup was a long wait to pick up our rental car. Long as in there were about 5 people in line ahead of us, one agent at the rental car window and it took about 1.5 hours before we finally were on the road. So now it's around 11:00 PM. We had an hour drive to our destination which was a Bed and Breakfast type set up in a rural fishing village (there was "no room at the Inn" in town). It had been noted on a review of our Bed and Breakfast that is was difficult to find. This worried me as I considered our late night arrival (which was now going to be a middle of the night arrival). I was our designated driver and night-time driving is not comfortable for me. So here we are, super tired, on foreign roads with totally different signage, late night dark and it was raining, driving a car I'm not familiar with and looking for a destination that is going to be hard to find AND we don't speak the language.
Hence, here was our first adventure. We made it safely to our little fishing village and followed the GPS directions to the Bed and Breakfast. As I feared, the GPS directions were somehow incorrect. It directed us off the main road (and even at the late hour, strangely there was another vehicle on the road and it turned behind us onto this weird, narrow side road). We meandered up this narrow street that was wide enough only for one vehicle and yet it wasn't a one-way road. Then we were directed to turn onto another road. The car behind us turned too. We were behind the neighborhood in some sinister looking wooded area and, did I mention it was dark, raining and we were tired. John and I both thought the same twisted thought. Our GPS has been hijacked (by the bad people in the car behind us) and we were being led to a remote location to be [fill in the blank]. The GPS then directed us to turn left and there was NO PLACE to turn left. There was no street where it said there was a street. The scary car was still in our rearview mirror. Would anyone have any reason to be out here in the middle of nowhere at 12:30 am in the rain???? We turned left at the next actual street and … whew, the other car did not follow us. That was a big relief but now we were on another narrow, I mean narrow, street and winding our way back down toward the main road. We finally get back down to our starting point and the GPS again insists that we must go do this whole circle again. We figured we'd give it another go as maybe, just maybe there was a street to turn on after all. We did the same big circle again. No street, no Bed and Breakfast. Now it's about 1:00 am. It's dark. It's raining. We're tired. Ok, so yes, we should have called the place and that was going to be our last resort because we didn't speak Spanish well enough to have a useful phone conversation and doubted they spoke English. We weren't ready for the last resort yet. John looked over the map and saw that there was another road that seemed to get us to where we needed to go. So we gave it a try. No GPS, just logic. And low and behold, we sort of found our destination. Well, we found a sign with the name of the B and B with an arrow that pointed up the road and indicated 100 meters. So apparently it was about 100 meters up this narrow road. All the little side roads were wide enough for only one car and even that was pushing it. We drove up and found a pseudo parking lot which technically was a grassy area with a big P (so we interpreted that as Parking). But where was the B and B? There was a line of locked and gated properties, none of which clearly stated an address and nothing like a sign. There was no "open all night" lobby. Everything was dark and everyone was asleep.
We decided to walk down the entire 100 meter steep, narrow hill, with our phone flashlights, looking for the address of our bed. And yes, it was still raining and was around 1:30 am. No lights were on at any of the homes along this street and no sign of anything that looked like a legitimate place of accommodation. As we were headed back up the hill toward our car, we hear a man call out "hola." Up ahead (at the top of the hill) a man and a big dog appeared. I called out "hola". And then said "we're looking for Casa Rural a Rega." To which he replies, "no hablo ingles." Ok. His large dog sniffs at us. How bizarre is this whole scene. As I fumble for my Google iTranslate app, he says "Cintia?" Yes, my name is Cynthia. He motions us to come with him. Yay. Miguel and Fatima own Casa Rural a Rega and they do not speak English. Why would they? We are in their home not ours. It was our full intention to communicate via Spanish and respect the language of our hosts and this was our first real opportunity. Albeit 2:00 am under extreme exhaustion. They were really talkative!!! It turns out we were the ONLY guests at the moment and they'd been waiting for us. I still don't really know how we were ever supposed to know where to go or how to get in. But that detail was unimportant. They brought us to their best room at the top of three flights of beautiful stairs and it was spectacular. Fatima walked into it and beamed with pride. She showed us the window which overlooked the ocean and village. Even with my tired eyes, I appreciated this view very much. I said "ahhh muy bonita or um, bonito!?" They handed us a key ring with three keys. Eventually we understood that one key was to lock our room, one to unlock the main entrance into the building and one to open and lock the front gate. Awesome!! Goodnight. No Thank You, we prefer not to have breakfast tomorrow.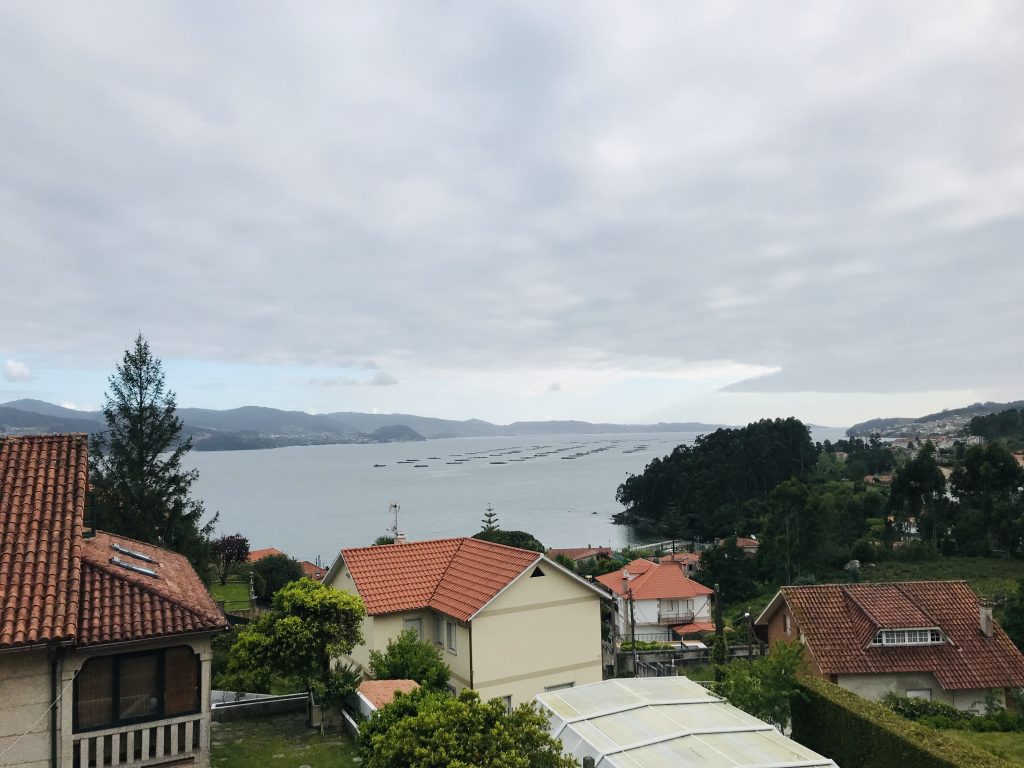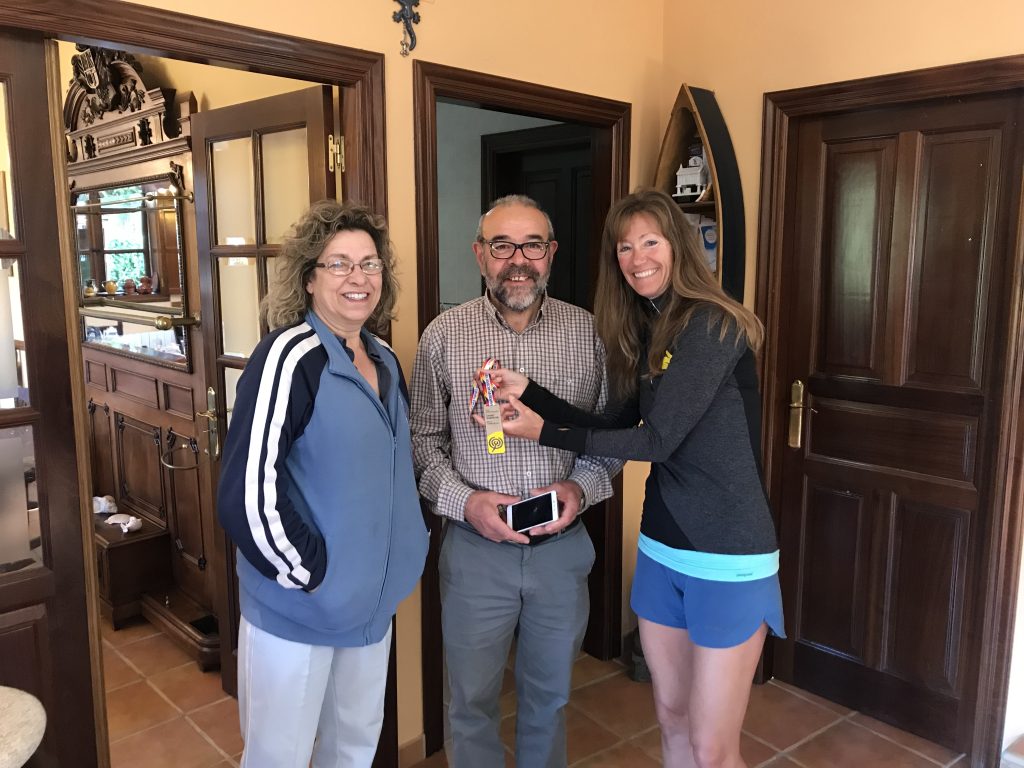 From here I'm sure you don't want the actual daily play-by-play but of note is that the key to our room, which was one of the old fashioned skeleton type keys, didn't work very well which meant we were now locked in our room and couldn't get out. Our first attempt to get out was the following morning (or actually afternoon because we slept until noontime). The key wouldn't work and I was forced to call Miguel on the telefono for help. He had no idea what I was saying and as I opened my iTranslate app to figure out how to tell him WE'RE FRICKEN TRAPPED IN OUR ROOM, he says "un momento" and was like … gone. Hello? Miguel?? Great. Can I cry now? He soon after arrives at our door and saves us and provides us with a working key. From there, nothing but smooth sailing at Casa Rural a Rega. We will forever love Miguel, Fatima and their dog Toro.
Over to the Race Venue
It was now Wednesday and according to my day-to-day To Do list, Wednesday was the day we were to pick up the rented bike, run the run course and drive the bike course. Driving in Spain was not too difficult and there were many round-abouts. Our drive into town took around 20 minutes in the slow moving traffic. We located Bike Rental at the venue and met the very friendly Dean Fletcher. Dean is originally from Great Britain. Waiting for me was a 54 cm Specialized Tarmac and Dean put my saddle and peddles on the bike and made some adjustments until it felt pretty good. There were two small (but potentially big) issues. The rear tire was very worn and I was almost certain it would easily flat. The other issue was discovered a little later. Dean arranged for us to take the bike to a local bike shop for a new tire!! Thank you Dean. He was the greatest. The bike shop was already bustling with athletes who'd arrived with bike travel issues (as in damage). The bike shop owner, named Nacho (oh yes that was his name), sent me back to the bike mechanic. He changed the tire and checked out the bike in general. He seemed quite concerned about a few things but of course spoke no English so I could only note his body language and began feeling uneasy about my bike's condition. I had already noticed that when pushing the bike from the saddle, it was not steering properly. Via my trusty iTranslate App, I discovered the steering was "no Bueno." In fact he said "you will surely crash." So what had happened was, back at bike pick up, in the final adjustment of the handlebar height, it had been improperly tightened which made it stiff. I hadn't ridden it again after that so I hadn't noticed (other than the oddness when pushing it). He also told me all the cables need to be replaced. These are not things you want on your mind going into a race like this. The bike course was dangerous and I was already going to be dealing with a bike I am otherwise unfamiliar with. I didn't need cables breaking, and I certainly needed my steering to work. He readily fixed the issue with the handlebar and indicated the cables will be fine in the short-term. So that was that but even still, the bike weighed on my mind every night until the race.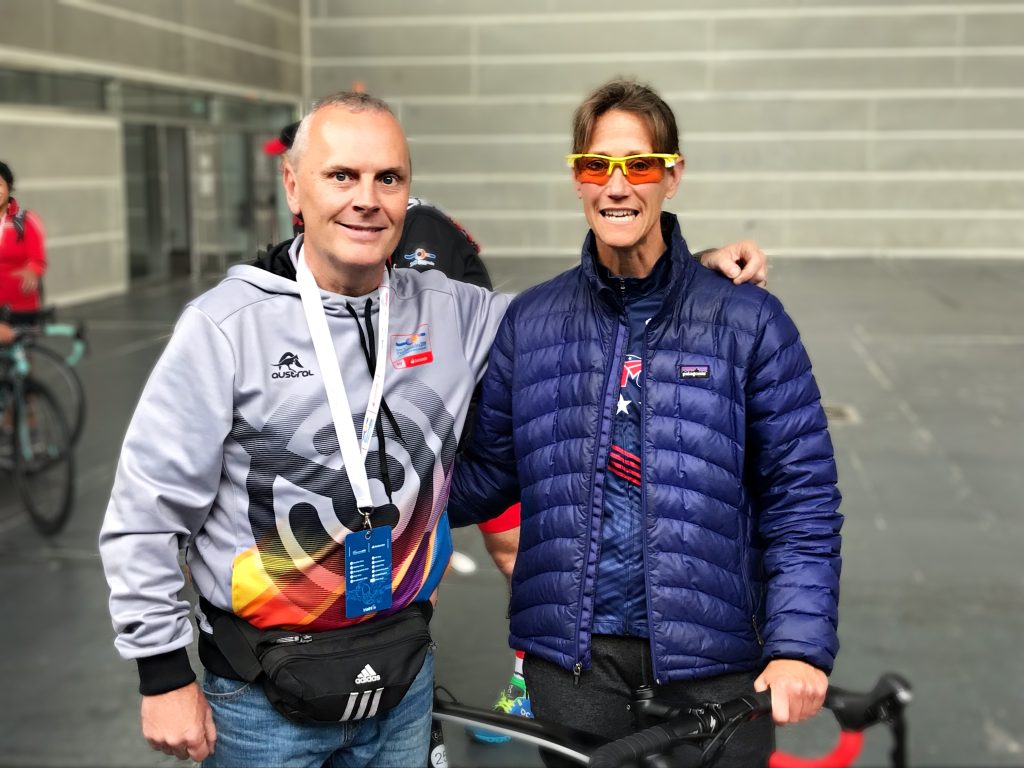 The Final Days Before the Race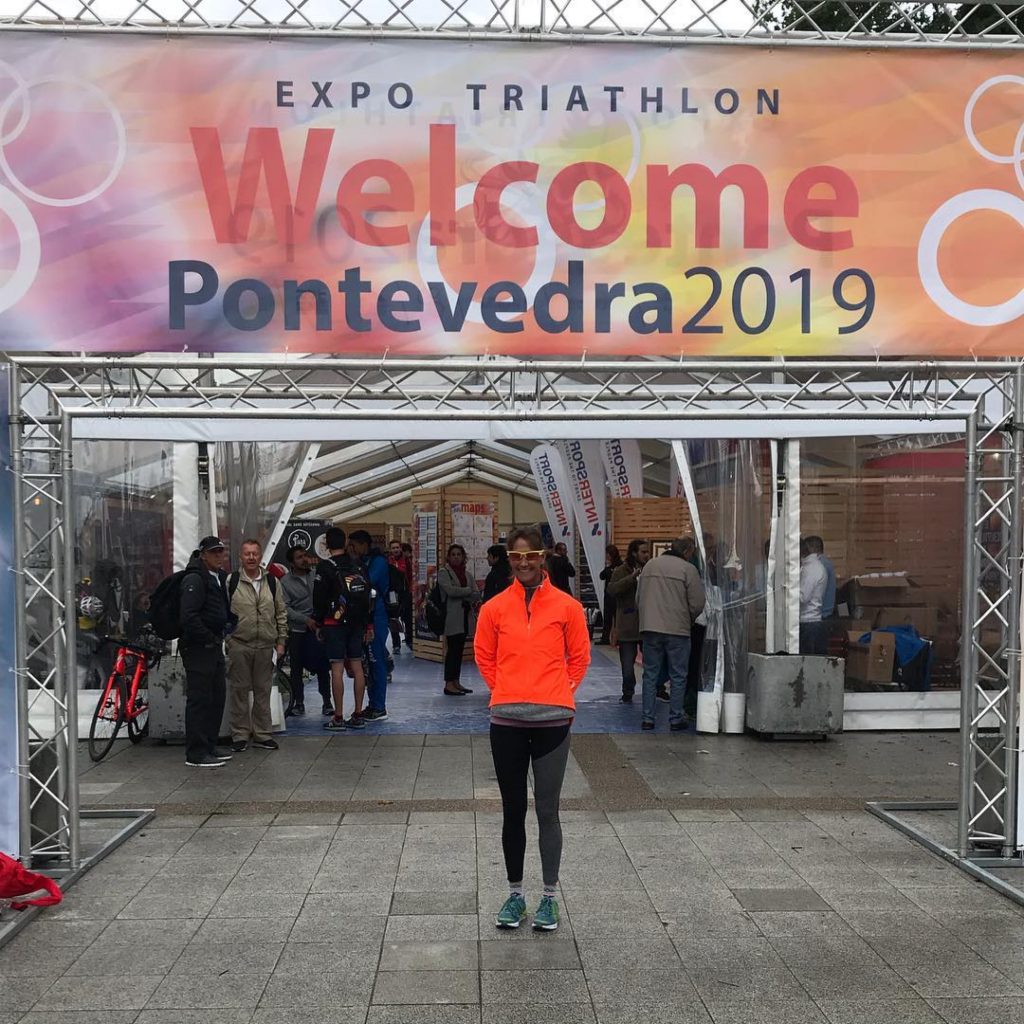 Thursday was packet pick up day, along with another attempt to figure out the run course. The course maps were vague as far as exact streets. We sort of figured it out but more importantly we located our favorite coffee shop. They were located right on the run course and on our first visit, we did our best to communicate that we wanted two 4 shot espressos with warm milk. Somehow "quatro chupitos de espresso con leche caliente en dos tazos" isn't quite right. And our barista/café owner looked puzzled. We got that look a lot :/ Especially when John tried to order gin and tonics from restaurants, but that's another story. For this story, our friend at the coffee shop somehow figured out what we wanted and made it for us and it was SO GOOD!! After that, we visited them frequently and every time he saw us (John really stands out there) he knew exactly what we wanted!!! On the last visit, we threw him for a loop and ordered a simple "grande café con leche". He was like, Que????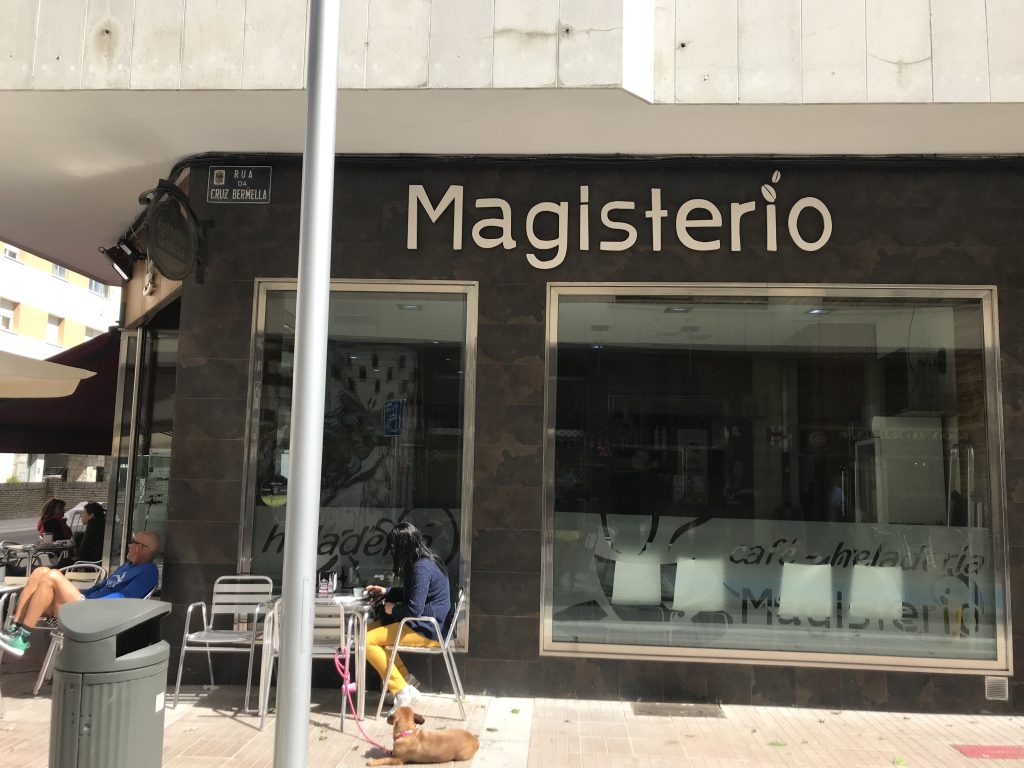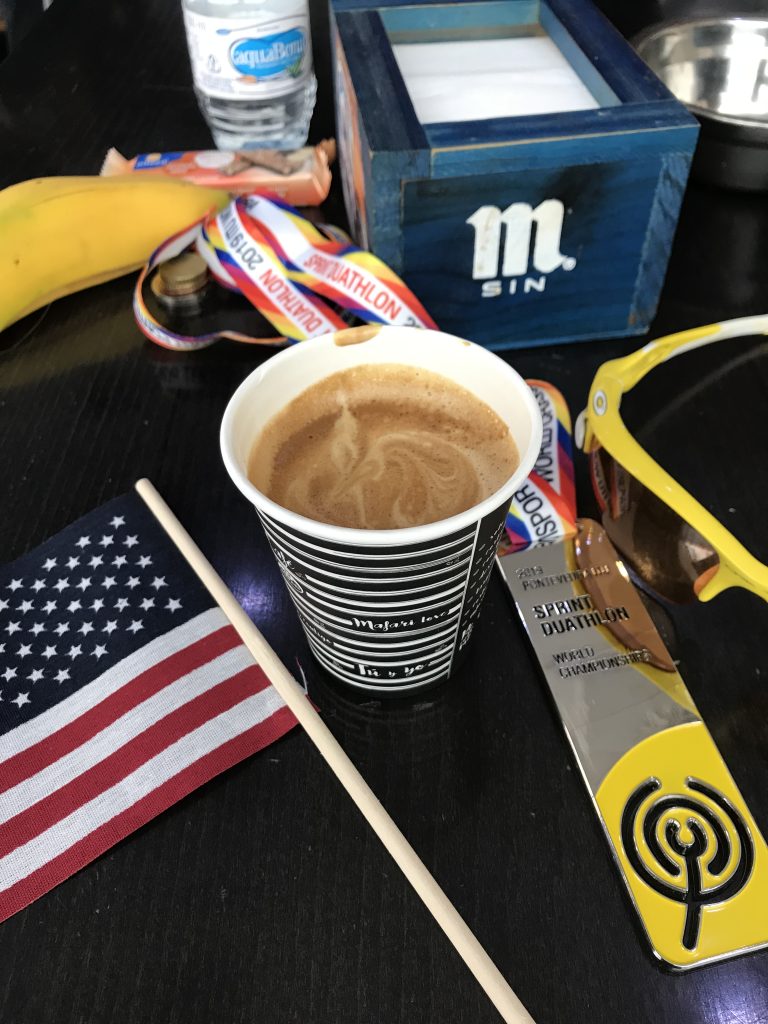 Friday was the Team USA Bike preview. It had been raining every day up to Friday morning and miraculously the last drops stopped falling around 8:00 am and our ride was 9:00 am. The rain, and hail, had been another weight on my mind every night as I lay in utter nervousness, not sleeping. I slept very little during the night and got a short nap each day (siesta, yes!!!) and my lack of sleep was another thing I laid awake thinking about.
The bike preview was great and was my first ride on my rented bike. I kept mixing up the direction of gear shifting and kept shifting it up when I meant to go down and vice-versa. But I loved the bike course. It was challenging and I was hoping that would be in my favor. I'm a better climber than I am on the flat road and I have pretty good nerve descending fast. The slope of the course was ideal because there was still ability to push power downhill and I learned that my rented bike had perfect gearing for the course.
After the ride, I applied the race number, pumped the tires and checked it into transition. It was about this time that I realized I forgot the mounting unit for my bike computer which meant I was not going to use any data in the race. No power, no distance, no mph. It was going to be pure perceived effort. None of the data really matters in the end anyway. All that matters in draft-legal is hold the wheel, stay in the strong pack and if possible, get your butt out front and push the pace.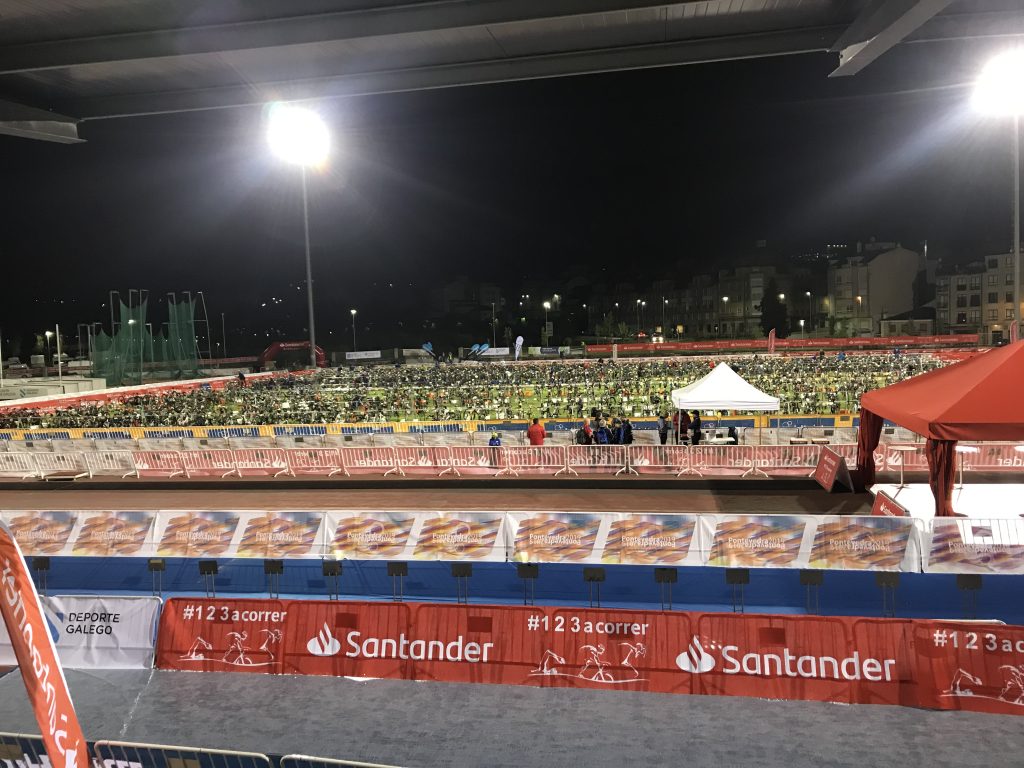 I familiarized myself with the flow of transition. When I finally came out and met back up with John, he said I was in there three times longer than everyone else. Some of that time was spent trying to decide whether I was going to do a risky transition or a safe one. This is my one area of weakness. I'm not great at flying mounts and getting my feet into my shoes while riding. Sometimes it goes well, sometimes it goes very badly. I scolded myself for not making that a priority in my race prep and decide I'll go with the safe transition.
Race Morning
We had to get up around 5:00 am on race morning. My race would start at 8:57 am and there were a lot of things that needed to happen in between. On race morning, things just seem to happen. You can't stop time. You can't go back to bed and curl up into a ball and wish the moment away. It's here. You have to just move through it. So I methodically went through the proper motions. I contorted my body into my USA team uniform, which requires near dislocation of shoulders to get in the top part. I had applied my race number tattoos the night before. I had all my stuff pre-packed so that nothing got left behind because of morning mental cobwebs. The last thing that played in my mind was the unknown of where athletes are held prior to race time and where I would perform my warm up. That part had not been clarified ahead of time but one thing I did know is that spectators were not going to be able to see the start nor the finish. This is one aspect that was really a bummer. While there was a way for a few people to get into the stadium, it really was impossible to actually watch the race and also see the finish. It was one or the other. The race start and finish were located on the track in an enclosed stadium. It really was an ugly thought to me that I would soon be entering that stadium and literally would have to say goodbye to John and he'd not see the start nor the finish.
As the morning played out, things just were what they were. I felt fairly calm. I arrived very early to check in at transition and from there I had around 2 ½ hours before my race. I was sleepy. I slept very little the night before, maybe not at all. My mind was consumed with many little pesky worries. At some point I more or less set my sights on post-race and began to imagine the feeling of being finished and the café con leche I was going to have.
We discovered that there was an indoor gym type place where athletes could wait. It was cold outside. Race morning temperatures were around 52 degrees with heavy clouds. The sunrise was around 7:30 am. Before we slipped inside, I performed my initial warm up. I ran the run course one final time and this time it was marked and I was able to be sure of where we were going. No other runners were out there. Why is that? I pondered this. That warm up did wonders for me. I loosened up and began to feel my body. I didn't feel that nagging training fatigue because I had done a proper taper and it worked. My breathing was easy and I found my rhythm. All good signs but one never knows how it will really go. Once that warm up was done, we slipped into the gym and watched men warm up, as their waves start first.
I visited the restroom about 10 times. Getting out of and back into that uniform 10 times. We eventually made our way back outside and found an area to complete my warm up. I went through my routine of muscle inhibition and activation, dynamic stretching, strides, drills, continual movement. Where were all the women? It seemed only a few were warming up. I waited until the last possible minute to go into the stadium where we would then be stuffed into a holding bin and eventually pushed forward to the starting line. It was cold. Slipping off all of my warm clothes, I smiled and said goodbye to John. I'd see him out on the course soon.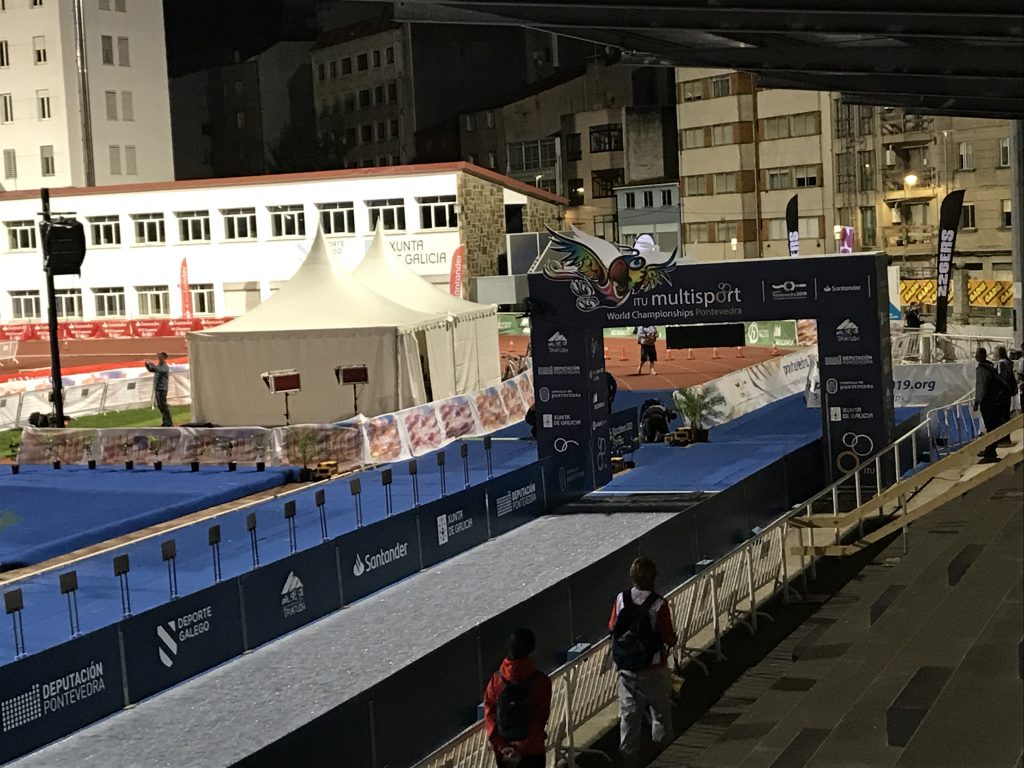 Inside the stadium, there was a small area in which to jog around. There were only two waves of women with 2 minutes between each. I was in the second wave. I didn't want to go into the holding bin until absolutely necessary because once in there, you couldn't really move around. I needed movement and entered into the corral as one of the last. What I didn't realize was that there was no way to get up to the front of the group. Everyone was packed into this area like sardines and like toothpaste through the tube, we were moved forward and onto the track for the start and I was literally in the back of this huge group. I moved around the edge a little bit and settled behind women I knew I shouldn't be behind. One was holding three gels in her hand. That was not a good sign. This race is not a long one and there is no need for any type of caloric intake. That signaled either that she was clueless or that she expected to take a long time. In either case, I should be starting in front of her not behind her. But there I was and without any warning I heard On Your Mark … and then the horn. My final fleeting thought was "this is going to be a rough start."
The Race
Run #1: 5K (two laps)
The pack of women lurched forward but there were few gaps for me to try and slip through. The faster women, who were positioned up front, were already out in full stride and I was stalled behind slower moving bodies. We ran one corner of the track and then made a left turn out of the stadium and then took a sharp, narrow right turn onto the road. For a moment I felt like I was living that nightmare that everyone has where you're trying to get somewhere but can't seem to ever get there. I was already talking to myself, telling myself to not panic, be patient. This was going through my head as I was slowed to a near walk by a huge bottleneck of bodies. But then came the open road and I was able to move around people. Of note is that the run course was very technical and had 20 corners on every lap, along with some narrow sections. Men and women were out on the run course at the same time as the men were on their second run when we started our first. It was crowed 100% of the time and there was no small amount of energy spent getting around people. Though I didn't mean to or intend to, I bumped into many other athletes.
But things began to settle and as I ran along one of the only straight sections, I had my first real view of where I was in the pack. I had moved up nicely and looked at my watch and saw I was running a 5:30 pace. With the slow start, I had to go harder in the first mile than I wanted to and I thought to myself "you need to settle down now." The most epic section of the run course takes us up a hill into the very center of the city. We ran through narrow passages between tall concrete buildings. The surface in this area was concrete bricks. It was a good surface to run on. The 500 meter hill was a definite challenge and this was the first time I was able to make up ground on some of the women who had been running ahead of me. I pushed hard on the hill and passed anyone I could. In this first lap we had already caught the tail end of the wave ahead of us and we had men all over the place, passing some, some passing us. It wasn't really possible to keep tabs on other competitors and I decided not to worry about it. Just like my bike had no bike computer and data, my run was all about feel. I ran as hard as I could and passed as many people as I could and that was all I worried about. By the time I hit lap number two, things really got crowded because now we were passing a lot of the wave ahead of us and I rarely could run a straight line. I was running around people and trying to not be frustrated. There were some Spanish women I'd been running with and I began to pull ahead and drop them on this second lap. The course was lined with spectators who cheered for you as a country "Go USA" and cheered for you by name "Go Abrami" and in some cases cheered you because they knew you "Go Cindy." I heard it all. The voices played in my mind and I used it to drown out my heavy breathing. I pushed 100% of the run, grabbing every possible second I could because the bike was a big mystery to me. As I turned the final corners into transition, I felt like I'd just had an awesome run. It's a good start so let's build on that right now. My head was immediately focused on my transition. Shoes off while I clip the helmet on. No fumbling. I put on my cycling shoes, grabbed my red Specialized Tarmac and high-tailed it out onto the road. My slow mount bordered on embarrassing but it was safe. Now it's time to ride.
The Bike: 20K (one lap)
The bike course was primarily out and back on a beautiful road. A draft-legal race means that cyclists are permitted to draft and form packs and it changes the complexion of a race, and is always an unknown element. So many things can change depending on what group you end up in or if you end up in one at all. Big strong packs can form and if you're encapsulated in one of those, it can be the game changer. Nothing is for certain. You can catch stronger riders or be caught by weaker riders. The playing field is much more equal with draft-legal racing. The bike course was hilly though, which also changes the complexion. It can be harder to form groups while at the same time it could present an opportunity for a strong climber to get away from a group. Most of my pre-race anxiety was related to the unpredictability of the bike leg.
During the race I didn't know where I stood related to others in my age group. As mentioned, it was nearly impossible to keep track. The reality was (although I didn't know it at the time) that I had the fastest 1st run so came into T1 (that's the run to bike transition) with the lead but because of my slower transition, I got out on the bike in second place. I was able to locate the one ahead of me and as the bike played out, I know we both were thinking the same thing. Don't let her get away from me. As we rolled out over the first few miles, I was pleased to discover that I did not tie up in my legs as I typically do. My legs felt good and I paid quite a bit of attention to the women riding around me to discover which were the strong ones. At first, there wasn't much attempt to group up and work together. There were about 5-7 cyclists around me and I was always on someone's wheel but others were a little scattered, riding solo. I believe there is quite a bit of inexperience with this type of racing, even at this level. With a bit of chatting we encouraged everyone to work together and I yelled out "get on my wheel" and I pushed the pace. We were headed uphill at a slight gradient which was a little more than a false flat. Admittedly, it was tough for everyone, even if you were drafting but this first 6 miles would most likely define the whole ride and it definitely could determine the eventual winner. For a period of time there was a decent group and different women led at the front but as the hill gradient increased, only a few were able to hold onto our pace. There was about 1000 meters of small chain ring climbing and it was here that myself and one other rider were the only ones left. We overtook several others who'd been out ahead of us and this other rider, on whose wheel I was attached, was in my age group. I knew her and she knew me since we finished top two last year with only a 6 second gap between us. Here we were again, dead even on the bike. The climb was hard and it occurred to me that this right here is the race. If I can't hold on, I will get gapped and may not be able to overcome that gap. The climb seemed much longer than I remember it being from our course preview. It seemed twice as long and I began to lose the battle. Even as we passed many riders, she pulled away from me. I kept focused and perhaps took a brief moment to collect myself and then I furrowed my brow, contorted my face and yelled at myself "you trained for this moment right here. You can ride harder. You can dig deeper. Do it now or never." I somehow, through screaming pain, picked up my pace and dug, and dug and finally began to gain back some ground. It was about this time that the slope lessened and some of those riders we'd just passed began to form a pack behind me and soon they caught me and I grabbed onto them. As a small pack we drove hard to the turn-around and then headed back down. There was incredible momentum and soon this unexpected phenomenon happened whereby the person at the rear of the group would come flying by and the front cyclist grabbed her wheel. And this kept happening that someone from behind would slingshot forward and we'd grab a wheel. I took my turn as well and when I made my pass to the front I was all in because I was hunting. Two of us took turns at the front and ended up catching the group ahead which was my goal. That increased our group numbers and at this point, the more the merrier. Shortly after that, I heard the hum of carbon wheels. While most draft legal riders use a basic road bike without any aero equipment (pure cycling – I prefer that), some come with as much equipment as is allowed. The carbon hum was a fellow American with race wheels, aero-helmet and a tucked position. I thought, "now there's a wheel I should grab." And I did. Our whole group benefitted from her carbon. Thank you very much.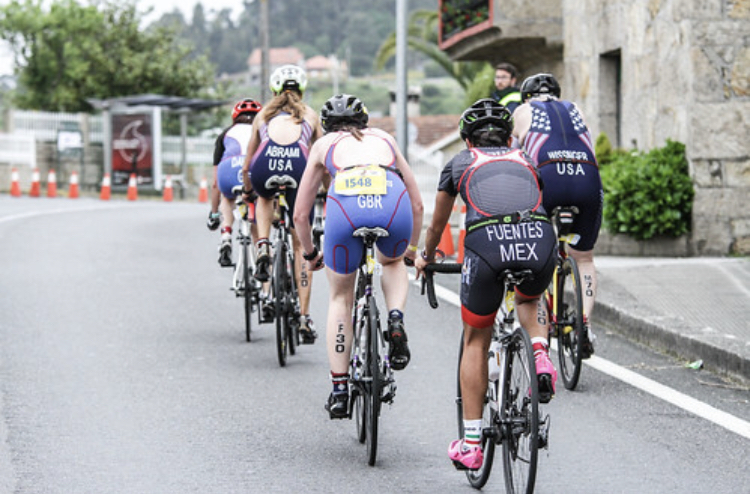 Not much changed after that. The final miles were about being careful and sticking with the group, taking the final corners and making sure you safely dismount before the line. My closest competitor was right there with me as we entered T2 (bike to run transition), our bike splits were identical down to the second. For the second year in a row, this race will be decided by the final run.
Run #2: 2.5K (1 lap)
The second transition is much easier and requires only a quick slip on of running shoes and most of our little cycle group came back out of transition together. I noted also that one of the Spanish women who was right with me on Run #1 was here with me. We left the stadium with me on her shoulder and my nearest direct competitor on my shoulder. We had a little over 1.6 miles before this race was over. I was excited, and I remember pretty much every step of that final run. My mind was active, always active. I talked to myself and analyzed how I felt. I analyzed how hard others were working. Last year I had to run down a competitor to claim the lead. This year we were running neck and neck. We turned our many corners, this time with fewer athletes in our way. The cheers were just as loud. A competitor from Spain was on one side of me, one from Great Britain on the other. This was the absolute definition of epic. How would it end? How much did that bike take out of us? But I felt good. Unlike many multisport athletes, I do bike/run bricks all-year round. As a result, I'm at my strongest when I run after the bike. I'm specifically trained for it. I felt in control and I waited for the hill. When we hit the incline I pushed and dug deep. I knew it hurt for all of us but I decided I could tolerate a little more pain than they could. I trained in pain every week. How many times did I play out this possible scenario in my mind at home? Every week. Every week I planned for this very moment. This right here was the race. I pushed up the 500 meters of pain and emerged with a gap. I didn't know how much of a gap. I just knew I no longer heard footsteps or heavy breathing except for my own. I did not let up at the top. I finished that climb and took the momentum and excitement right into the downhill and in my mind I began to gather for the final painful half mile of flat. I knew at this point that if I am to be caught, they will have to run faster than me and I am not going to slow down and let that happen. And so I pushed on, down the long straight section that bordered the beautiful river. For the 4th time I heard John's cheers and I heard the support of many other voices. Of note was the cheering that came from Tim Yount, one of our USAT Team managers. He seemed to be all over the course and had the exact words that I needed to hear. With about 400 meters to go I heard him for the last time, "don't slow up, they're coming!" Our other USAT Team manager, Lauren, held out a flag which I grabbed before the sharp turn back into the stadium. From there all I had was about 100 meters, with a bizarre U-turn half way up. And then across the line. As was the case last year, I couldn't be absolutely sure of a victory so did not cross the line with a triumphant pose. I didn't really know if I had won but I was fairly sure no one in my age group had yet come in. I waited the short 16 seconds for my fellow competitor to finish and we embraced. She is so strong and we are quite evenly matched. I have incredible respect for her.
The finish, unfortunately, was a little anti-climactic with no one there to cheer us to the finish. This will be a big regret of many athletes I expect. Last year, the finish area was so crowded that John could only raise his camera up and face it in the general direction. He couldn't get close enough to actually see me. Last year there was epic music playing and an incredible energy everywhere. I didn't realize how important all of that is until I felt this nagging lonely feeling as I stepped over the line this year. It was oddly and unexpectedly empty. It did feel good to rest though. And I then casually made my way out to meet up with John at our designated meet up spot. I felt an incredible amount of relief that this race was complete and it went well. I can truly say I did as well as I possibly could. I had no regrets and that is a big deal for me as I typically feel I could have done better. John went immediately to the race website to check results and that's when we discovered that I'd indeed repeated as World Champion. And, I caught my breath, smiled quite large and received a congratulatory hug from the one who shared this whole experience with me. Here is the link to the results: 2019 ITU World Championships Sprint Duathlon Women 50-54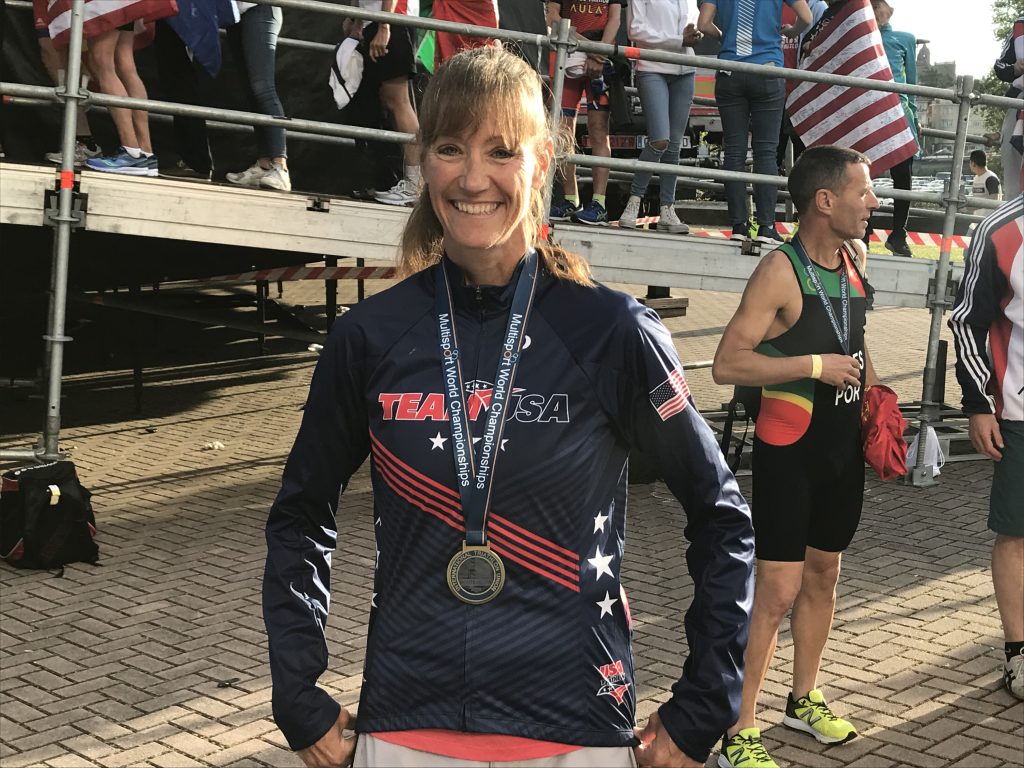 Post-Race
This is about the time the clouds began to lift and the air began to warm a bit. I find that as no coincidence as this is exactly how I felt inside as well. The clouds of fatigue, worry, pressure, lack of sleep, nervousness were all gone. I felt warm, free, light, and pretty darn tired. We visited our favorite coffee shop and received warm hugs from the staff. We later watched the Elite Men and Women compete and then made our way back "home" for a nap. I finally slept.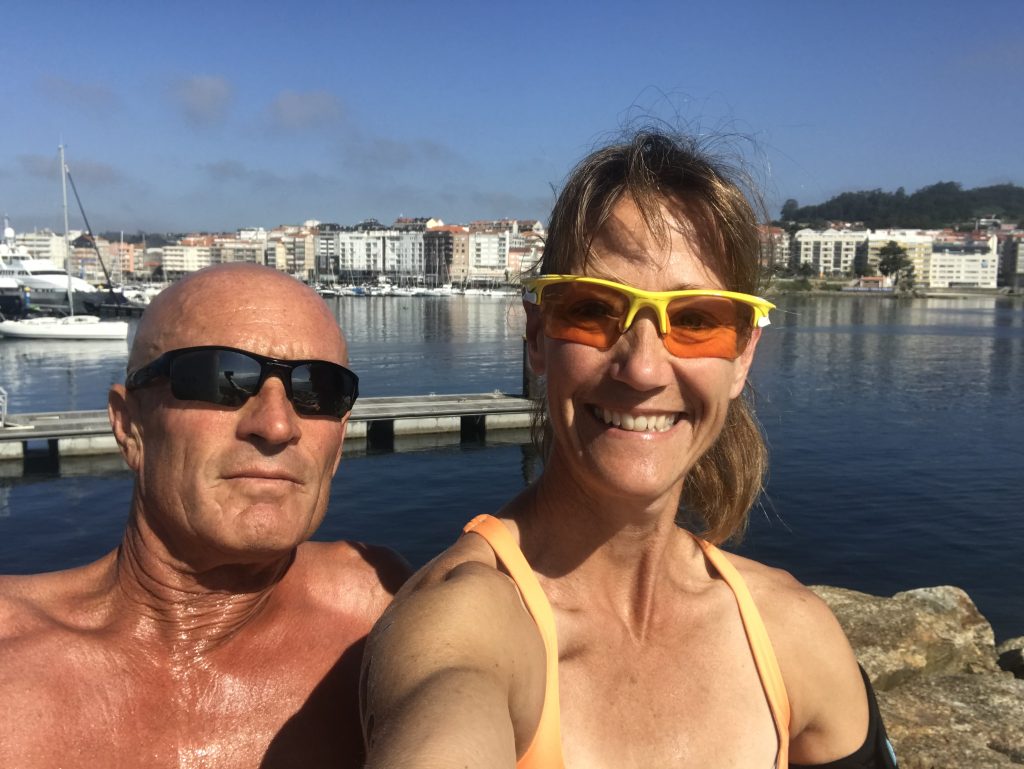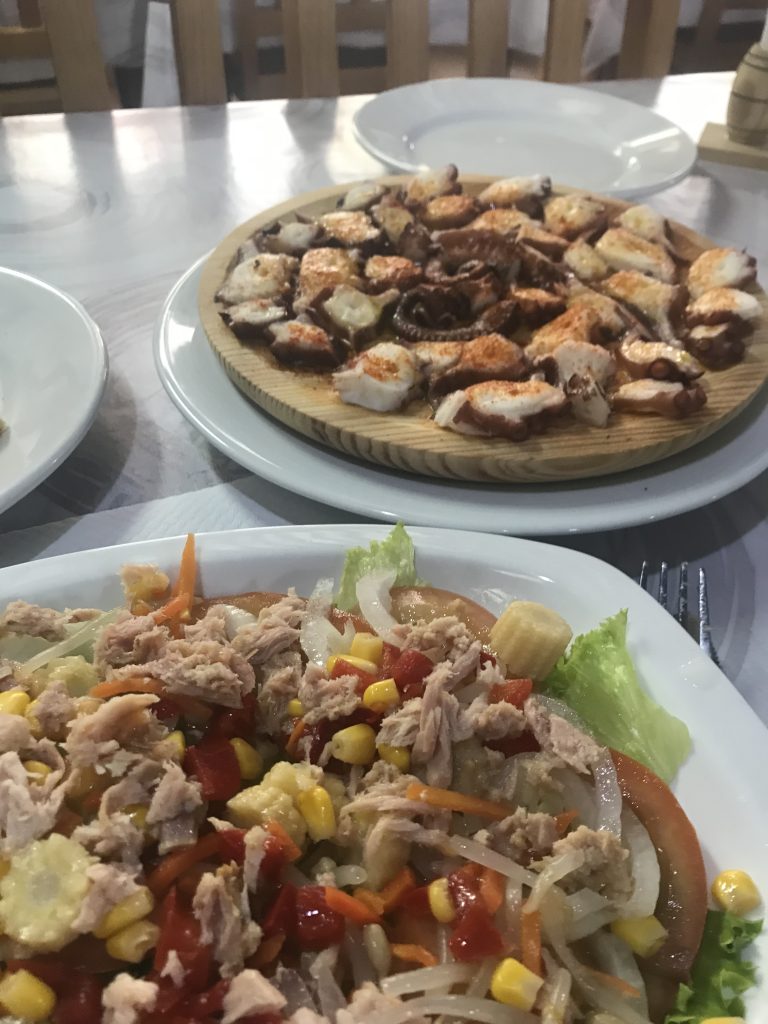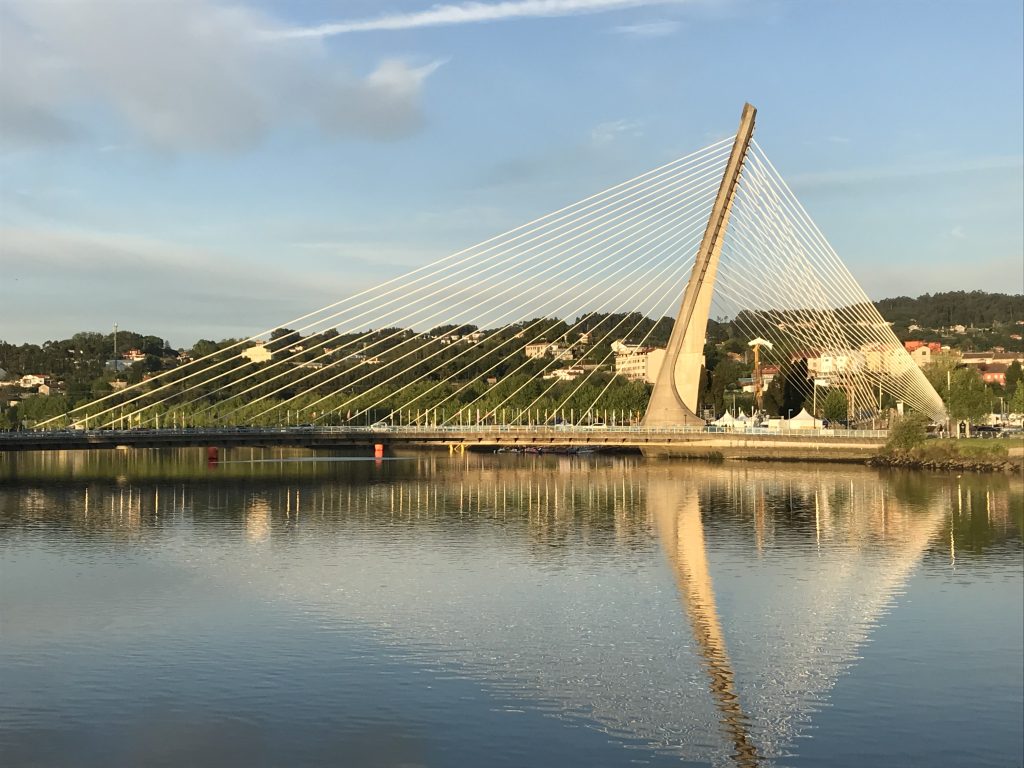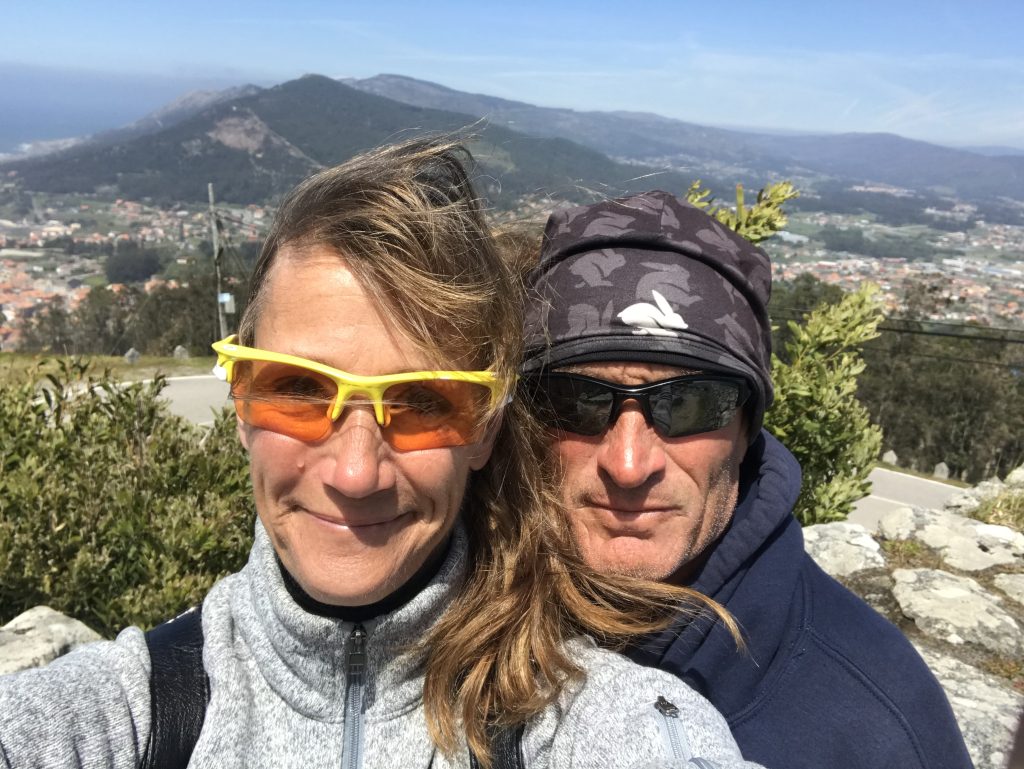 The following 6 days were beautiful, warm, sunny and I was happy to take one day off from training. We found new places to run and swim after that, and found another favorite coffee shop. We were more free (now that I didn't have to worry about GI issues) to sample the local cuisine (as in octopus, which is called pulpo) and visited pre-Roma Celtic ruins near Portugal. We watched other races throughout the week. The river water temperature was generally around 57 degrees so John was feeling grateful not to be competing this year.
As I look back over those 11 days in Spain, I see both halves of the trip. I see cold, gray and cloudy, and I see warm, light and sunny. I'm grateful for both halves.
The Conclusion
It was time to go home. We anticipated smooth travel and with the gain in hours as we traveled against the time zone, we were due to land in LA around 8:00 PM on the same day. The drive back to the Santiago airport was lovely. We returned the unblemished (except for some bird poop) rental car. But from there nothing went as planned, and we took the super extended ride home through Moscow. That's another story for another time. We were so happy to arrive safely back home and from the airport, drove through Malibu on our way home and had an espresso and an acai bowl.
Thanks and Gratitude
There are so very many people I want to thank. First and foremost, thank you to my amazing husband John who trained with me and helped me mentally and kept me mostly sane during the race week. I am so grateful for John every single day. Thank you to the many friends who cared about me and cared about this with me. This experience is empty without you. Thank you to those who trained with me whether that was on the track, on an indoor bike or an outdoor bike, or in some sort of conditioning class. Thank you Fred Maggiore for looking over the bike profile and helping me understand it and have several plans and for all of the things I've learned from you over the years. Thank you to the 24 Hour Cycle class and Gold's Gym Cycle class for tolerating the tough sets we did week after week, and for the wishes of luck, and for the congratulations. It means so much. Thank you Tabitha for letting me share every "pre and post" detail with you and for giving me those assurances right up to the day of the race. Thank you Mike and Stephanie, Liz, Brooke and the Santa Barbara Swim Club s as we all worked hard together for our respective races. I was inspired by you. Thank you to the 8:05 bike group from whom I've directly learned how to ride well, how to ride in a group, and for the many days you pushed me. Thank you to my uncle, brother, sister and my two sons for encouraging me and being there in spirit and sharing the moment. Thank you Maria and Bob, our wonderful neighbors who cared for our kitty in our absence, and surprised me with an epic Champion Balloon as a Welcome Home! Thank YOU for reading this. If you've read it to this point, it means something to you and that you care. I'm grateful for that. It was important that I write this so thoroughly as this is a moment I never want to forget.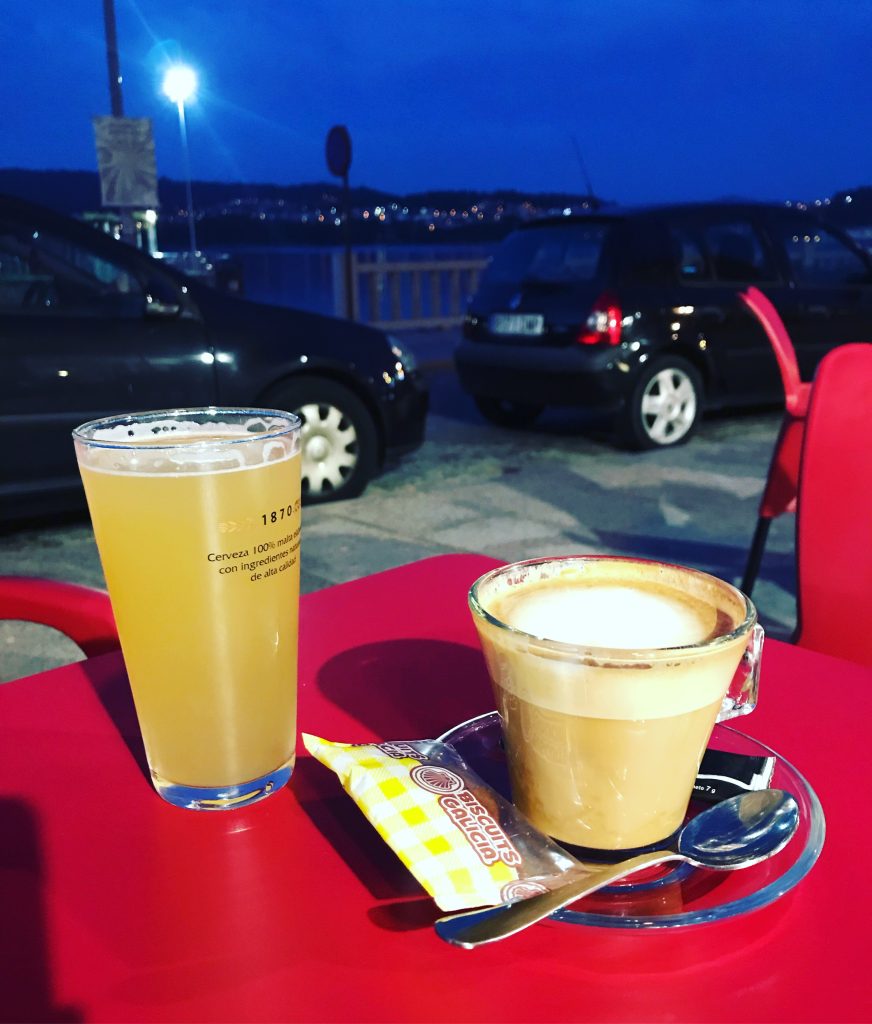 It will take just a bit of time to mentally recover from this experience and then we'll decide whether to do it again next year. The ITU Multisport World Championships Festival 2020 will be held in Almere, Netherlands (near Amsterdam). That sounds pretty epic!