2018 ITU Multisport World Championships – Race Report
By Cindy Abrami, NASM-Corrective Exercise Specialist, UESCA Running and Multisport Coach and holds a BS in Nutrition
Serendipity
Serendipity is a funny word. It means "an unexpected surprise of good fortune." It's hard to really dream for something without expecting it but I think we sometimes do just that. It's that moment of hope for something and the asking of "what if" yet done so in sober humility. This somewhat describes my mindset as I approached what I will dub as "the race of my life."
Just a short back story to bring you up to speed. Athletes tend to seek their best event and best result. I am primarily a runner but as I reached my 40's and now about to hit 50, moving in the direction of multisport (meaning an event that combines different athletic disciplines) allowed me to cross-train (on the bike and in the pool) with purpose. Long story short, I began doing triathlons about 10 years ago and while I tended to run and bike well, my swim was enough of a deficit that I was unable to reach the level I wanted. On a quest to find my strengths in multisport, last year I decided to step into duathlon (which combines running and cycling) and competed in the 2017 USAT National World Championship qualifier for sprint duathlon. This race format is draft-legal on the bike. I struggle with Achilles and calf issues and at the time of last year's race, I was in a cycle of injury and hobbled into this race wondering if I could actually even complete it. But it was my all-important opening to the possibility of a World Championship so I had to try. I competed in a great deal of pain but managed to win the event with a 7 minute margin and upon crossing the finish line, immediately was forced into a long break from running to let my body heal. But the first goal was reached. I'd qualified for the 2018 World Championships.
From that point on I was singularly focused on that event which somehow gave me ease of heart as I spent that summer abstaining from running and satisfied my competitive hunger with a few aquabike competitions (swim + bike). With uncharacteristic patience and satisfaction, I embraced the time off from running. It served my ultimate goal which was to arrive at the World Championships whole and healthy.
Training for a World Championship.
I trained differently once I was able to run again. I spent much more time working on other aspects of my fitness such as strength, power, agility, core, hip and glut mobility and activation. I cleaned up my diet. I combined run+bike three times per week. I spent time hitting the bike with dead legs and hitting the run with dead legs. When appropriate I perform high intensity workouts not only to advance fitness but also to prepare mentally. I cycled more and ran less. I trained as if I wanted to win . . . and internally I tried to admit that indeed I really did desperately want to win. It's hard to fully prepare for the unknown and in the end I felt all I could really do was train to be the best athlete I could be and pray it comes together at least once at the right time. Did I have a chance to win? There was no way for me to know. So I dared to dream a little and hope a little and wonder what it would be like. And I kept it hidden inside and did not verbalize it.
Two weeks out from the race, I had a long hard week of training with additional workouts added in. I reserved the final week for the taper. So with full training under my belt, John (my husband) and I headed to Denmark for the World Championships. I truly felt ready. But ready for what, I wasn't sure.
The Race.
At the ITU World Championships, athletes compete for their country and wear their country's uniform, and of course dozens of nations are represented. This type of experience was a first for me. I was/am on Team USA and that made me feel less alone and more a part of a team. Our team traveled with a huge support crew that included medical support, bike mechanics, massage therapists, coaches and someone to answer any question you could come up with. Team USA was comprised of hundreds of athletes as the World Championships included 6 different multisport events across a two week span. So an added blessing of support came in the form of cheering USA fans. Things didn't feel quite so foreign.
I arrived in Denmark 5 days before my race and spent the days leading up to it getting acclimated to the time change, to the culture, to the food, to the espresso (yes, so good), and completing all the steps of check-in. I rented a bike rather than try to travel with mine. For the record, this was a good decision. I was provided a brand new Cube fitted with my pedals and saddle. Remarkably it took no more than 5 minutes to dial in the fit and it felt fabulous. What an amazing machine. That's all I can say about that! With all of this preparation and adaption, I continued to swallow the jitters and try to keep myself generally calm. Having my strong, supportive husband with me made this process so positive. He's just full of common sense and is a laid back California dude. Salve to my agitated soul.
During these 5 days, I completed several workouts in a tapered fashion and kept up with hip and glut strengthening and core work. We spent one day with the USA duathlon coach out at the university track facility (which is a unique and amazing facility). It was just the coach and John and I, and we had a great mobility workout with some spirited intervals, but all-in-all, not too much. The taper went great.
The day before the race, we checked the bike into transition. Decisions needed to be made around how I would handle the transition. Interestingly, the transition area was in an underground parking garage and to enter and exit, you went up/down ramps. This meant the bike mount and dismount was on a slope. This also meant the flooring was slippery (polished concrete). Consideration needed to be made regarding whether I'd have my bike shoes pre-clipped to my bike or whether I would instead put them on in transition and clip in at bike mount. To make the decision, we observed the bike mount during the standard duathlon which was contested two days prior to my race. We sat and watched how athletes handled the slope and noted that many of them really messed it up. The smoothest bike mounts were done by clipping in rather than having the shoes attached. I made the decision to put my shoes on in transition and run in them. I was one of the few who did this. The down-side? My T1 was slower. The upside? I had a smooth mount and got rolling strong much quicker than my competitors.
So, back to bike check-in. The run in and out of transition was long and complicated so it was necessary to practice the flow. I checked in my bike and then I ran through both of my transitions exactly as I would be doing it the next day. I practiced mounting on the slope and dismounting on the slope, running is socks (off the bike), running in bike shoes (off the run), cornering and u-turning in transition, checking out the carpeted floor (thankfully they created a carpeted path so it wasn't slippery polished concrete I was running on). I felt satisfied with it. I left transition and began to feel that stinging nervousness set in.
Race morning. To get into the USA team uniform (a one piece swim suit type thing with long legs), it's not an exaggeration to say you basically need to be a contortionist. It's like squeezing into a girdle 3 sizes too small (never really tried that but I imagine it is much the same experience). I finally got it on, managing not to disrupt the fresh tattooed numbers on my arms, and then wondered how I was going to go to the bathroom the typical 5 times before the race. Deep breaths, I'll get real good at slipping in and out of this thing. We were required to check-in at transition race morning to pick up our timing chip and complete our final transition set up. I was in and out by 7:15 am and my wave was set to go off at 9:00 am. Speaking of my wave. The configuration of age groups in each wave changed a few days prior. This actually can have some effect on how the race goes because a wave of younger, stronger women could affect how the draft-legal bike portion plays out. This also factors into placement on the run. In the end, my wave was comprised of women 45 years old and older. So it included one age-group younger than mine and the women in their early 40's were in the previous wave. I knew this meant there was a chance I would be leading my wave after the first run and may not have a group of women to draft with on the bike. These are the weird things about this sport and there are so many odd details that can change the face of the race. But in the end, things play out how they play out and I didn't want to overthink it all. I just spent that little bit of time pondering how it might go so that I could have a general plan.
I did an initial mile warm up on the run course and spent an ample amount of time stretching and staying limber. I performed a full hip activation routine with a mini-loop and then completed another mile of warm up. Then came strides, drills and nervous hopping. Through it all, I simply felt ready. A calm fell upon me. Maybe a confidence, I'm not sure. In these moments it's hard to know how to interpret what your body and mind do. I just felt ready. I felt hungry to race, hungry to fight. I was eager. I was ready.
The men's waves went off, then came a 30 minute gap before the women went. It was time to gather in the starting corral. The race before us was a 5.5 K run (3 loops of the run course), a 20 K bike, and a 2.5 K run (1 loop of the run course). I knew exactly what was going to happen once the gun went off. This is where experience is so valuable. I knew 20 women were going to shoot out way too fast. Why, I often wonder, do athletes even at this level make this mistake? This is what 8 year old kids do, not 50 year old seasoned athletes. But it always happens, always. I pre-planned to let them go and pre-chose not to stress over it and so I positioned myself about three bodies back off of the start line.
"On your mark" – the horn blew. Off we went and yes, 20 women shot off the front and a small semblance of a smile hit my mouth. You go ladies. Go burn yourself out in the first 800. I'll see you soon. Within that early half mile, I began overtaking women and hearing their heavy breathing as I calmly passed. It takes a bit of discipline to hold back and I had to really be careful not to try and eat up the pack too quickly. I noted a front pack had formed up ahead of me which included maybe 8-9 women. I wondered if they could actually hold that pace or if they were still in the process of burning themselves out. Along the beautiful, quaint downtown streets we went, cornering several 90 degree turns, hitting some cobblestone. The 2.5 K loop was 100% lined with spectators. They cheered and I actually heard it and felt it. I listened for the "Go Abrami, Go USA". Mostly what I heard was "Go GB". Ha, there was a huge Great Britain team there and in fact the front pack was mostly women from GB. But then there was one from the USA to break up their pack. By the u-turn on the first loop (which is about the lap half-way mark), I was in the front pack and just went with the pace. There was one GB woman clearly setting the pace but the pace was fine for me. As we closed in on the end of the first of three laps, the front pack began to dissolve and it was just a few of us. Shortly into the next lap a few more ladies dropped back and I rode the shoulder of the GB front runner. I then decided to pass her. There I was, in the World Championships leading the race and that fact played in my mind. It became apparent to me that the other women could not hold the pace so I pushed it and by the end of the second lap I was all alone out front. I spent the third lap putting as much time on the field as I could and entered transition with an 18 second lead on the next woman.
T1 for me was slow (somewhat expected). I fumbled with clipping my helmet strap (not expected). I think some of that came from the new realization that I actually had a chance at something I dared even to hope for. The bike leg for me is not as strong as my run. The true test was about to happen. So yes, I lost a bit of time in transition but it went otherwise smoothly and I mounted on the slope and road out of transition still in the lead.
My mind was racing. Wow, it took some kind of new skill to calm it down. I had NEVER been in this position and I reminded myself to keep it together. Within a minute I was passed by a woman. She was a US athlete and she gestured for me to jump on her wheel. The moment of truth. Could I hold the wheel of a stronger cyclist? With some effort and a bit of fear I grabbed it and soon others came upon us and a strong pack formed. As there were also women from the wave ahead of us whom we'd caught up to, we gathered those coming from behind and those grabbing on as we passed. Draft-legal is so awesome. Our pack, which probably grew to about 20 riders, was like this force of speed that no single rider could hold on their own. Once it solidified, there was really no way anyone was going to get out ahead and ride away with it. The pack was too strong. This meant all of the women who could possibly beat me were riding with me and they weren't going to get an advantage on me on the bike. But the ride in this group was dangerous. There were several near crashes and the group was nervous. As we overtook riders, there were unexpected shifts on the narrow road. The course was technical with several turns. Here is where my cycling training partners played their role. I learned over time in training with experienced riders, how to safely take a corner while keeping speed. I learned how to shift to an easier gear before the turn so I could regain my speed. I learned how to keep my line and deal with others who might not be keeping their line. So on we went for this 12.5 miles and I managed to stay out of trouble and stay tight in the pack. As we headed back toward the transition, I began to really dare to believe I could actually win this thing. Logically speaking, I could out run all of them. But there is always the risk of something going wrong. First on the agenda was to finish the bike unscathed. I still had to safely and quickly dismount, get through the long transition and always in the back of my mind was "will my Achilles tendon hold out?"
T2 – The dismount line was set at the top of the slope to avoid crazy speed issues and riders coming in too hot on the downslope. I slipped out of my shoes and actually came to a bit of a screeching halt between two British women. It was actually quite hard to judge incoming speed while trying to deal with the rush of adrenaline. Dismount went smooth and I joined the procession of women running with their bikes. There was really no room or reason to try and pass them in transition but this also meant that I was a bit stuck going slower than I was capable of. There was in fact one woman up ahead who was able to gap me because of this. At the rack, it was all smooth. I racked the bike, pulled the helmet off into the box in which all used items must go and my shoes miraculously slipped right on for me. And off I went on the long, slippery run out of transition.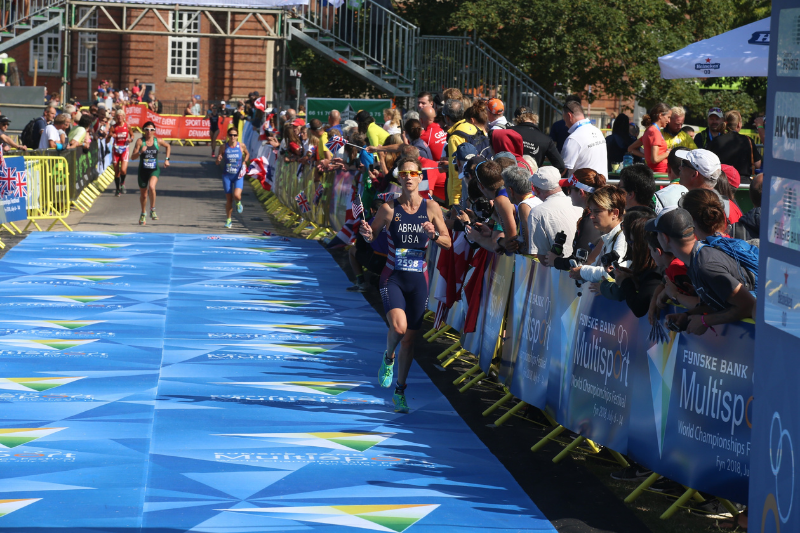 I really didn't know who was ahead of me and of those I could see, at this point I didn't know if they were in my wave, in my age group. It had become mixed up and we carried no marking on our bodies that hinted to our age. But I knew names. I studied my competition and new the names of previous podium finishers and winners. I knew their running abilities too as I reviewed previous results. But for now my only thought was to run like I'd never run before and overtake anyone I could. I began the final lap which first takes you right by the finish line and I started hunting. Any female in sight had to be passed. About 1000 meters into the final 2.5 K I spotted a name ahead of me that I recognized. She was in my age group and was a previous winner and multi-podium finisher and the question came to me. How bad do you want this? Will you fight? I closed in on her and at the u-turn she saw me coming and she responded. Patience. Belief. Desire. Fight. I edged closer until I needed to decide to sit on her shoulder or make a pass. We had maybe 600 meters to go and I just kept my pace and we were now elbow to elbow. She was resisting my attempt to pass and we actually hit elbows as we battled. But I was ready. I made the definitive pass just before entering the park and with her behind me, experience told me to keep pushing. In passing her I gave her some control. I could no longer see what she was doing but she could see everything I was doing. I started the final run of the circumference of the park, 400 meters to go, and I shifted to one more gear. Would I come this close and then let it slip away? I rounded the final bend and up ahead I saw the finish line. Still 200 meters to go but I did not hear footsteps on my heels. Onto the blue carpet. Then out of the crowd to my left, Team USA reached out with a flag and I grabbed it and completed the race. I won by a 6 second margin.
At the time I actually didn't know for sure if I'd won because there was no way to fully keep track of everyone. I worried that someone else might have been ahead. So I didn't actually cross the line knowing I'd won but I did think I was at least on the podium. I had a huge knot and pain in my left calf which I became aware of only after I finished. I was eager to get out of the post-race area and find out the end result but I had a beautiful occasion to speak with some of the other finishers as I walked through. You battle in competition but you're friends afterwards and there is that mutual admiration. It felt good.
Shortly thereafter, we confirmed that I had won and then came an indescribable feeling. A smile, an inability to breathe, mouth hanging open, eyes wide and something just felt complete.
The medal ceremony. They make it very special. Team USA handed me a flag (again) and at the appointed time I took the stage with the male and female 50-54 year old podium finishers and there was that brief moment of true glory and a very special medal was placed around my neck.
Serendipity. An unexpected fortuitous occasion. Unexpected because while I prepared and hoped and dreamed and wondered, I didn't really know if it was possible.
Before I lost my dad at the early age of 47, he one day told me I'd be in the Olympics. Well that wasn't written in the books for me but I wonder if this is an adequate fulfillment of his prediction. And I hope he was watching. Thank you to everyone who has supported me and believed in me, most notably my husband John, and for everyone who has allowed me to share this moment with them. Great things aren't great unless you have someone to share them with.